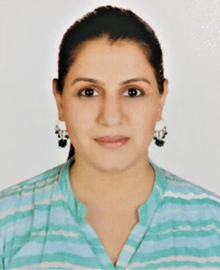 Vandita Segan

Principal Consultant
Vandita is a Principal Consultant at People Business. She comes with over 15 years of experience in the fields of teaching, training, coaching, Learning & Development and Leadership and Organizational Development.

She has diverse global experience of having worked in India, UK, US and SE Asia with industry leaders like JPMorgan Chase, Tech Mahindra & and the Mahindra & Mahindra Group across the Banking & Finance, Technology, Telecom, Automotive & Hospitality industries. During the last 3 years she has also had the opportunity to consult independently for start-ups and NGOs.

During her career, she has designed and delivered a diverse portfolio of workshops to hundreds of Frontline employees, Mid & Sr. level Managers as well as & Business Leaders on topics of Self Leadership (Business Communication, Influencing & Persuasion, Accountability, Conflict Management), Team Leadership (Leading Teams Effectively, Motivating Mantras, First Time Manager Toolkit, Coaching Conversations) & Business Leadership (Executive Presence, Strategic Thinking, Leading & Driving Change, Mentoring & Business Finance).

She has also sled and supported various initiatives specifically built around Performance Coaching and/or Behavioural Coaching for frontline & mid-level managers as well as Success Coaching and Career Coaching for high potentials managers and leaders. She has coached individuals successfully using the GROW Model, the Co-Active Coaching Model & the CCL Coaching Framework.

Vandita holds an M.Ed. Degree, a certificate in Communication from Cambridge and several certificates related to Human Capital Management from New York University.


Back to Team